ASA Synthetic Resin Tile Special Accessories
Raw material of ASA synthetic resin tile from ASA high weather resistant engineering plastic,the advanced three layer co-extrusion technology,surface layer is ASA resin,middle is backbone layer,bottom is wear resistance layer.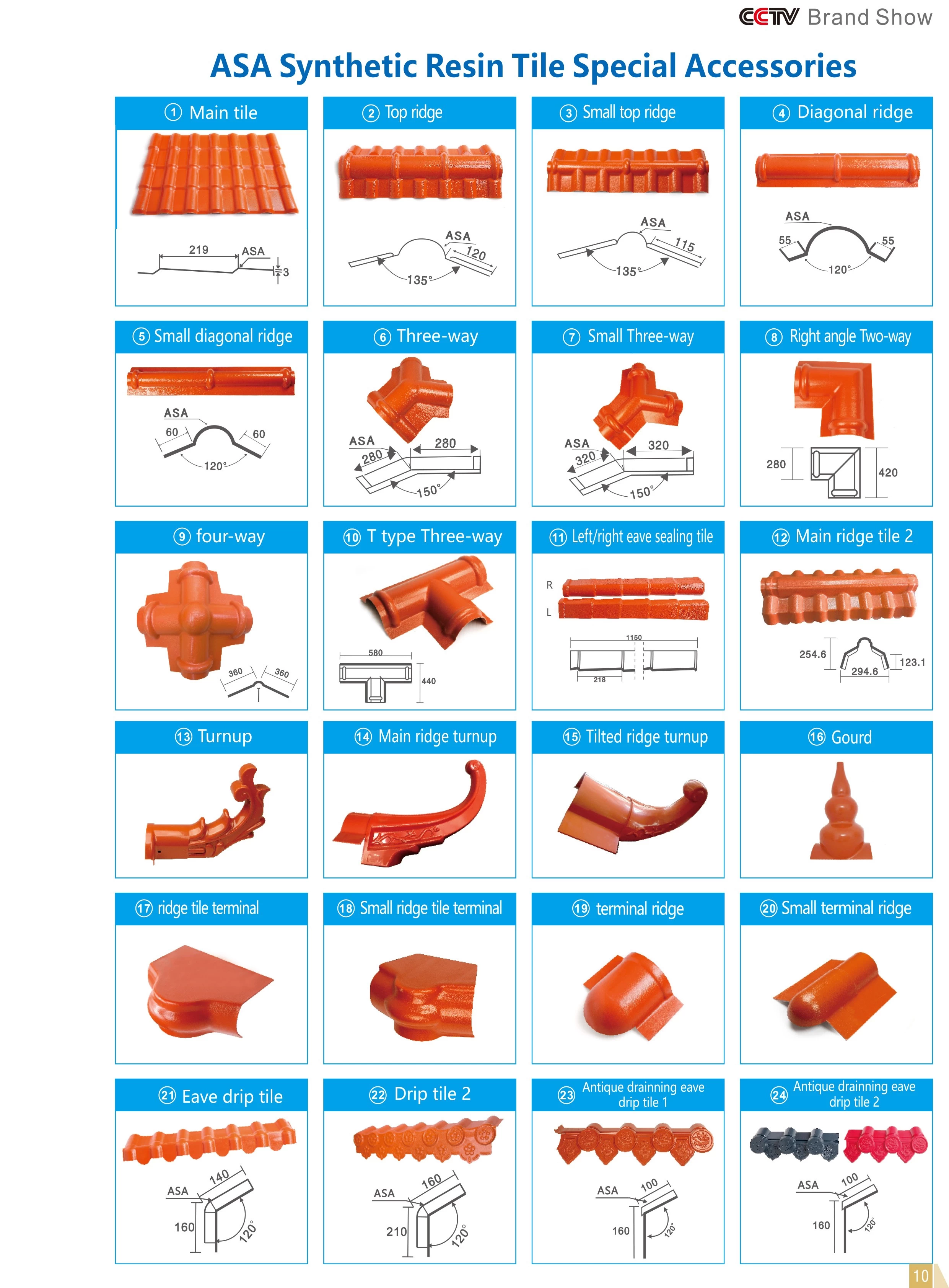 ★Stable volume:The expansion coefficient of synthetic resin tile is 4.9× 10-5mm/mm/°C, while the tile shape has bidirectional stretchability in geometric shape, even if the temperature changes greatly, the expansion and contraction of the tile can Digested by itself, ensuring geometric stability from the surface;
★Excellent waterproof performance:The high weather resistance resin selected for synthetic resin tiles is dense and non-absorbent, and there is no problem of microporous water seepage.The product width is 45% wider than the traditional tile, and the roof joints are less, so the waterproof performance of the synthetic resin tile is much higher than that of the traditional tile;
★Excellent insulation performance:Synthetic resin is insulation product,can keep the roof structure undamaged by electric .
★Strong fire resistance:Synthetic resin tile is nonflammable material,fire proof resistance is ≥B1 level by test.
★Quick installation:Synthetic resin tile with light weight and with various accessories,easy and fast install;Roof tile effect width is 960mm,can improve the paving speed and saving labor cost.
★Long lasting color:Synthetic resin tile surface layer is coating with imported high weather resistance engineering resin.With durable under natural environment.
★Excellent bearing capacity:Synthetic resin tiles have good load carrying capacity.In the lower temperature areas, even if the roof is covered with snow all the year round, the synthetic resin tile will not have surface and cracks.After testing, with a support spacing of 660mm, loading 150kg, the tile will not crack and damage;
★The noise absorption effect is good:It has been proved by experiments that the resin tile has a good effect of absorbing noise when it is affected by external noise such as heavy rain or strong wind;
5.Application:
Mainly used in "Flat to Slope",villa,mobile house,pavilion,etc.